Homoeopathy in Sri Lanka
An account by Carla Carmichael
India and Sri Lanka are very special places to me. My first visit to India was in 1991 followed by a much later visit to Sri Lanka in 2006. Upon my return from Sri Lanka, I never imagined I would be returning back to that beautiful part of the world so soon.  
In January 2007, before going to Sri Lanka, I spent a month in Chennai (formerly Madras) studying Homoeopathy under Dr A U Ramakrishnan, an internationally known Homoeopathic Doctor, at the Venketeswara Homoeopathic Medical College and Hospital. Once that had finished, I headed further south to Pondicherry for a couple of weeks before then taking a flight to Colombo, capital city of Sri Lanka.
Sri Lanka, known as the teardrop of India, is a beautiful tropical island. It only has two seasons – hot and very hot! As a Westerner, one has to get used to sweating 24/7, as the climate, particularly along the coast and in Colombo, can be very hot and steamy. For those of you who have never experienced the Tropics, I recommend a visit to the tropical plant houses, in either Glasgow, Edinburgh or Kew on a British, very hot (yes, we do get them occasionally), sunny day and that is the closest you'll get to the Tropics' experience in these parts. Whilst there are those who top up on the tan factor before departing these shores, I try and top up on the steam factor, courtesy of Glasgow Botanic Gardens………Oh heaven!  

As well as the beautiful people of Sri Lanka, one has to get used to ants, cockroaches, and mosquitoes, as they are all part of living in the Tropics and you either 'put up and shut up' or 'go home'. Adaptability is all that is required, along with patience, understanding and a sense of humour.

I lived in Colombo for 6 months and my decision to do so has been one of the best decisions I have ever made. Initially, I was there to study clinical acupuncture at Medicina Alternativa – The Open International University for Complementary Medicines. I really don't know what possessed me, but using people as pin cushions, I soon discovered, was not my forte. However, one acupuncture point has always been my favourite when it comes to threatening a supersonic cockroach.  Armed with a needle and threatening him (the Asian male cockroach can fly) with the acupuncture point 'Huiyin (Ren 1)'  quite often had him scurrying away faster than he arrived!  
Call it fate, serendipity or whatever; the day I started at the Acupuncture Centre in Colombo was the day Dr Shanthakumar decided to accept an invitation to teach some homoeopathy there. He'd been approached before but had always declined. I guess we were just meant to meet! I was invited to spend 6 months with him in his clinic and of course, I jumped at the chance with both feet.
See picture of Dr Shanthakumar on Carla's left.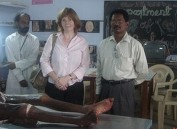 Dr Shanthakumar had the good fortune to study Homeopathic medicine in Kombakonam, Tamil Nadu, India some 28 years ago. He still does an inordinate amount of reading and attends seminars in India from time to time. He is a quiet, humble man, who eats, lives and sleeps homeopathy and if you wish to argue a point with him, you had better know your homoeopathy, the Materia Medica and of course the bible of Homoeopathic Medicine – The Organon. He is a true Hahnemannian and practises according to the Cardinal Principles of Homoeopathy.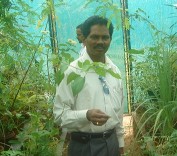 In Sri Lanka there are three languages spoken: Sinhala, Tamil and English. Thankfully for me, Dr S is fluent in all three but his native tongue is Tamil. With a 35 year civil war (now ended, thankfully) in the country, that has resulted in thousands losing their lives, life certainly hasn't been easy for him or his family, but that has never stopped him helping people with homoeopathic medicine.  

I lived in Wellawatta, a Tamil suburb of Colombo, affectionately known as little Jaffna. It was very convenient for both the Acupuncture clinic and his private clinic, as I could take a nice early morning stroll down to the Indian Ocean before starting time. Dr S starts his consultations early in the morning, any time from 7am onwards. He consults up until around midday then takes a rest until about 4.30/5.00pm.

Colombo gets very hot and humid during those hours and one doesn't want to be walking about in the strong sunlight without either a hat or an umbrella (it really is only 'mad dogs and Englishmen' that go out in the midday sun. Of the odd white tourist that I came across during my time, some would not have looked out of place in a fish market next to the Lobsters!).  

Once he had started again he could be seeing patients until 11pm or even midnight. I would also travel with him to another clinic along the coast on Saturdays and then occasionally up to Hatton in the hill country. He would make that journey every Sunday, leaving his house at around 3.30 am, to catch a bus, which would take about 4.5 hours to wind its way up the mountain side. Patients were always waiting for him to arrive.

He would then spend his day there, not leaving until about 7.30pm, to then arrive back in Colombo at around midnight. I would have liked to have gone to Hatton more often, but travelling those roads didn't quite suit me. I would feel quite ill when I arrived and I learned to make it a habit to eat very little before leaving or returning to Colombo, after all, I didn't wish to regurgitate the contents of my stomach half way up and down the mountainside!

The Doctor had a variety of cases to deal with a_______ __________, d_______, f____, p________, g_________ w_____, b_____ c_____, l___ c_____  to name but a few. (We can't list them here because that might infringe ASA Guidelines.)

He would either translate for me during his case taking or would explain the case afterwards. He would spend as long as it took for him to be satisfied that he had a full picture of a case, even if some of the patients had to wait a while.

During those months, I also did a great deal of reading as the Doctor has quite a library!  He always reminds me that in Homoeopathy, let WHO, WHAT, WHEN, WHERE, and HOW be your constant questions and always follow the Cardinal Principles.

Having been so engrossed in my life in Sri Lanka and loving every minute of it, even though I had some difficult moments, when my time came to leave, I found it very difficult and heart wrenching. Fortunately for me I was able to return to spend 3 months with the Doctor in 2008. It was during that time that I travelled to India with him for 10 days. One forgets how big India is (I had forgotten about taking a 29 hour train journey across India in 1991) and with huge travelling distances, one travels through the night and catches up with sleep on trains and/or buses so as not to waste valuable time.  
Together we visited a number of Homoeopathic Medical  Schools  and Hospitals in Tamil Nadu, Homco, a large public owned Homoeopathic Medicines manufacturer in Alappuzah, Kerala and The Dr R P Patel Institute of Homoeopathy in Vadodara, Gujarat, as well as attending a 3 day Homoeopathic Seminar in Salem, Tamil Nadu. It literally was a case of planes, trains and automobiles!
We spent a whole day at the Sarada Krishna Homoeopathic Medical College and Hospital, Kulasekharam, Kanyakumari District, Tamil Nadu. The whole trip was very special to me but that particular day made me feel as though I'd died and gone to heaven! Even now, I wish that I could go and study there at that school for 5.5 years to gain a BHMS – Bachelor in Homoeopathic Medicine and Surgery. India has the best systematic homoeopathic education in the world and it is so wonderful to be in a country and environment where Homoeopathic Medicine is given the respect that it rightly deserves and to be with so many like-minded people. It is a world away from what happens in the UK!  

The welcome and hospitality that I receive when I visit these countries is second to none and I have done a great deal of independent travel in my life.

I was back in Sri Lanka with the Doctor for one month earlier this year and his clinic is getting even busier. People are now able to travel from all over Sri Lanka to consult with him. He has a very variable work-load from very serious acutes to chronic and deep pathology. I am very much looking forward to going back next year and spending 3 months with him. Hopefully, I'll time it so that I can go back to India with him again.

References

Dr A S Shanthakumar - http://www.askhomeopathy.org
Homco – The Kerala State Homoeopathic Co-operative Pharmacy Ltd - http://www.homkerala.com
Medicina Alternativa – The Open International University for Complementary Medicines. www.medicina-alternativa.org
Dr A.U. Ramakrishnan - http://www.drramakrishnan.com

Sarada Krishna Homeopathic Medical College & Hospital - http://www.skhmc.org