Jonathan Clogstoun-Willmott RSAPH
Jonathan Clogstoun-Willmott's first experience of homoeopathy was in about 1975. He was training with Mary Austin, a renowned practitioner in London of homoeopathy, acupuncture and other therapies.

One day when sitting in with her during a consultation, she handed him a copy of Boericke's Materia Medica and Repertory and asked what he would suggest for the patient.

Jonathan had never seen the book before and his frantic scrabbling produced no sensible answer.

Boericke Materia Medica
But he was fascinated by how the book described people and their problems, and the way it showed that problems are usually typical of the kinds of people they are. In other words, if you can find something therapeutic that is typical of the individual, it may help them recover their health faster or more efficiently than something that merely fits the symptoms they have.

So he began reading it, and while training in Chinese medicine and acupuncture it continued as a background interest.
Then one day at an acupuncture seminar, the lecturer happened to say that, if she got her time over again, she'd study homoeopathy instead.

Why? Because although it was harder to learn - and practise - than acupuncture it was more elegant and also very efficient.

So in due course Jonathan studied homoeopathy in much greater detail and began collecting homoeopathic qualifications.
When he was in China for six months on a course in Chinese medicine, he caught a cold which became acute sinusitis: very painful, giving dizziness and headaches, nausea and insomnia.

His colleagues included not just professional acupuncturists but also psychiatrists, doctors, nurses and even dentists. All the medics took one look at his symptoms and prescribed antibiotics.
But Jonathan wasn't into antibiotics for sinusitis: it was painful but not life-threatening. Like most people who are sick, he couldn't make an objective diagnosis of himself. He knew he could treat it with acupuncture but it would take time to work.

Unable to sleep one night, he realised that his symptoms were better in the icy conditions outside and much worse indoors. Also that, most unusually, he found he liked tea. And he was better when taking a little exercise or changing position.

At that point, about 2am in the morning, he kicked himself and took one dose of Pulsatilla 30.

Almost immediately he fell asleep, and when he woke up a few hours later, all his symptoms had completely gone.

The pain and phlegm? Gone, and he could think straight.
When he arrived for the morning lecture, his colleagues were a bit surprised to see him, given how he'd been feeling worse and worse for some days.

But they could see he was better. So they all congratulated him on taking their advice - the antibiotics! But he'd taken a remedy, not an antibiotic!

There's nothing like personal experience to convince you something works.

The trouble with homoeopathy is that it's not easy to identify the right homoeopathic remedy - the medicine - for a patient.

Long after the patient has gone, homoeopaths often spend hours thinking about a remedy for the patient, time that the patient isn't aware of.

Of course, they've also spent years learning about the homoeopathic philosophy of health and disease, and studying and becoming familiar with remedies.

But when patients return 20 years after having received from you one single dose as a child, now bringing their own children for treatment, it can be very satisfying - even more so, when they come with their grandchildren!
Jonathan now sees patients only part-time. The rest of his time is spent helping to run various organisations and writing or lecturing.

In his spare time he has set up investment clubs and run a marketing organisation, managed a foreign property company and still runs a small publishing company.
Oh, and he used to be a Chartered Accountant.

He might have made an excellent Primary school teacher - he knows very little about lots and lots! Unfortunately he lacks the emotional intelligence, fortitude and patience to teach children.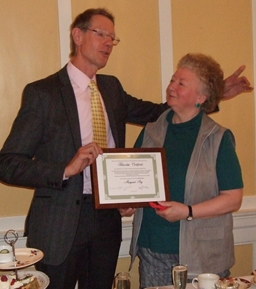 Jonathan Clogstoun-Willmott giving Margaret Roy, Past Chair of SAPH, Founder and Principal of the Scottish College of Homoeopathy, and author of many renowned text-books,her SAPH Fellowship certificate in November 2013.
Jonathan Clogstoun-Willmott - author
Jonathan Clogstoun-Willmott wrote a book in 1986 that is still sold, and recently he has written four other books, (one on a subject he knows lots about from personal experience):
Still more books are on their way, currently in various stages of disarray.
He has a website on Chinese Medicine that is visited by many thousands of people every month from all round the world.
With his wife he enjoys hosting parties, and he also likes music, drama, cycling, walking, skiing: - and he gardens. But don't try to visit his garden because the weeds are always ahead.

If you want to know more about Jonathan Clogstoun-Willmott's experience and qualifications, click here.. 

To find out what patients say about him, click here.
Where Jonathan sees patients - in person
Jonathan Clogstoun-Willmott now practises in East Lothian, about 15 miles from the centre of Edinburgh.
Mondays and Thursdays, at 1 Cockburn Halls, George St, Ormiston EH35 5JB.
Bus 113 stops outside the Co-op in Ormiston Main St (a wide street with trees down either side). From outside the Co-op, cross the road and walk along the North side of the continuation of Main St going West for around 200 metres, until you see the War Memorial on the right, just before you reach George St on the right.
Behind the War memorial is the entrance to 1 Cockburn Halls. No restrictions on car-parking.
Booking an Appointment
To book an appointment, please click on www.brief.me.uk or ring 07950 012501.
 Please note - You can only book via www.brief.me.uk or by ringing Jonathan directly at 07950 012501.
Only bus 113 goes to Ormiston. But many buses (eg buses 26, 104, 106, 113 from Edinburgh) go to Tranent, from where you can get a taxi to Ormiston.